29 Jan

The HocoBots!!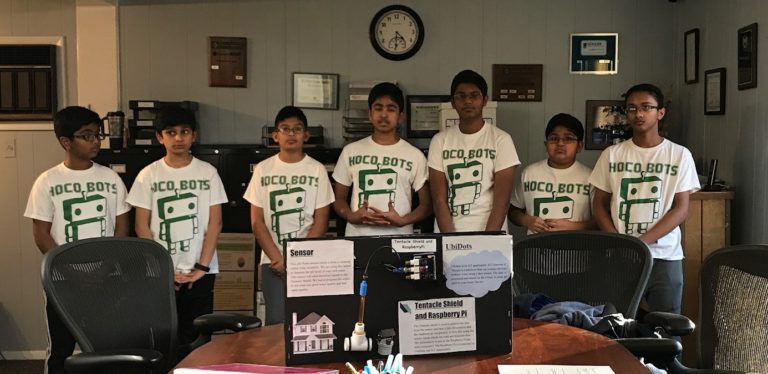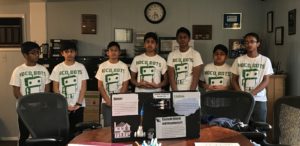 Last week National Water had the privileged of hosting the HocoBots, a group of talented 5th-8th graders from Howard County, Maryland. The HocoBots are a seven-member FLL team based out of Howard County and study in FQMS, MVMS, and MWES. Some of its members have been part of FLL for almost four years. The HocoBot members have won several Championship awards at the qualifiers over the years. HocoBots is proud to say that some of its team members have represented Howard County at State level competition 3 times so far and will be representing Howard County again this year on Feb 24th at UMBC.
The HocoBots are a member of the FLL (First Lego League) which is a part of FIRST (For Inspiration and Recognition of Science and Technology) engaging young kids in an exciting Mentor-based program that build science, engineering, and technology skills, that inspire innovation, and that foster well-rounded life capabilities including self-confidence, communication, leadership and contributors to the society.
Guided by two or more adult Coaches, FIRST LEGO League* teams (up to 10 members, grades 4-8**) research a real-world problem such as food safety, recycling, energy, etc., and are challenged to develop a solution. They also must design, build, program a robot using LEGO MINDSTORMS®, then compete on a table-top playing field. Along their journey, they develop critical thinking and team-building skills, basic STEM (Science, Technology, Engineering, and Math) applications, and even presentation skills, as they must present their solutions with a dash of creativity to judges. They also practice the Program's Core Values, which emphasize discovery, teamwork and good sportsmanship.
This years challenge relates to hydrodynamics or how humans find, use, transport and dispose of water. The HocoBots created a product that can sense the purity of your water and instantly notifies you if your water has become impure via a text message. These young student are a true inspiration and we had a wonderful afternoon discussing their invention and showing them some of the water treatment and filtration systems we use. We look forward to working with the Hocobots in the future and wish them all the best at their upcoming competition.