18 Feb

Lead In Water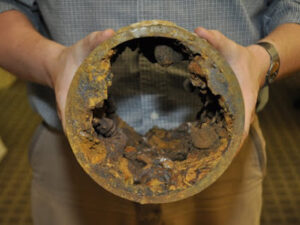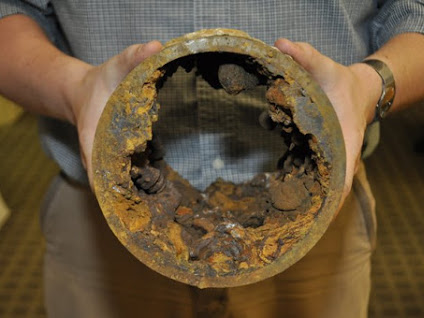 Lead in water is not only a problem for residents of Flint, Michigan or Washington, DC, it effects everyone. In August of 2018, students at 90 Montgomery County, MD public schools may have been exposed to lead concentrations higher than the EPA's "action level" of 15 parts per billion.
Lead is a naturally occurring, common metal found throughout the environment. Lead seldom occurs naturally in water supplies such as lakes and rivers. Lead enters drinking water as a result of corrosion or wearing away of municipal water pipes and household plumbing that contain lead.
Lead is a toxic metal that can cause immediate effects at high doses and long term effects if it builds up in the body over many years. Lead can cause damage to the brain and kidney and has serious effects on your blood. Children are the most vulnerable to lead poisoning because their bodies are smaller and still developing. Pregnant women are also at higher risk for negative health effects associated with lead exposure.
In 1991, the EPA published the Lead and Copper Rule that requires all municipal or public drinking water systems regularly test a sample of homes for lead at the tap. If more than 10 percent of homes tested have lead concentrations higher than the EPA's "action level" individual water companies are required to notify area residents via any means necessary including social media, TV, radio, phone calls to customers and more. The EPA is currently considering long term revisions to the Lead and Copper Rule.
In January 2014 revisions to the Safe Drinking Water Act made it illegal to install any pipe, or plumbing fixture or fitting during installation or repair of a municipal water system or customer's drinking water plumbing unless it meets the definition of "lead-free" or not containing more than 0.2 percent lead.
However, in 2016 USA Today reported that they have identified around 2,000 water systems spanning all 50 states where testing has shown excessive levels of lead contamination over the past four years. The water systems, which reported lead levels exceeding EPA standards, collectively supply water to 6 million people.
As a result of the revisions to the the Safe Drinking Water Act & the Lead & Copper Rule, older homes are more likely to have plumbing fixtures containing lead.
If you're concerned about lead in your drinking water or would like to learn more about why in-home water treatment is the consumer friendly answer to your families water wants and needs, please call us at 301-854-1333 or by email at info@nationalwaterservice.com.