Sparkling Water On Tap
Last updated Apr 16, 2019
One of the many reasons we all love doing what we do is that each day is different. Different well pump issues, different equipment to service and most importantly, different customer requests.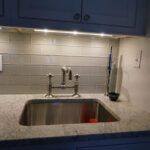 For this very happy new customer in Washington, DC, we installed a Reverse Osmosis System for up too 99.9% contamination free drinking water, a Water Softener with Brine Tank for hard water, a Carbon Tank to remove smells & odor and Sparkling Water on Tap! Of all the work we completed on the house, the Sparkling Water on tap is far and away the system the customers enjoying the most.
While we support clean water and water treatment for all, nothing says that clean water can't be sparkling!
If you would like Sparkling Water on tap in your home, we are more than happy to be of assistance!