We're Prepared For Any Water Situation!
Last updated Mar 27, 2019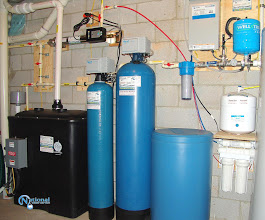 National Water technicians are prepared for any water situation. To stay prepared, we hold company wide continuing education meetings every Tuesday morning. We discuss new products in water treatment & well pumps as well as round-table ideas for specific customers water issues.
A new customer called complaining about their very low water pressure. Our emergency response team was dispatched to evaluate the situation. The customer had an existing Water Softener, Acid Neutralizer & Reverse Osmosis system. The existing equipment hadn't been serviced in years and as a result, additional testing was required. We tested the water, as we do for every home, for contaminants such as radon, bacteria, lead, pH and more. The Radon and E.coli water tests failed and as a result new equipment was proposed and installed.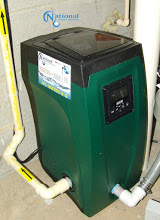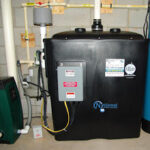 The existing softener and neutralizer were dumped and re-packed with new resin and calcite. The Reverse Osmosis filters and membrane were changed and the faucet and housings were cleaned. Annual service is always recommended for all water treatment systems.
In order to remove the radon from water, a Spruce AiRaider was installed. An AiRaider removes up to 99% of radon from water through a multi-stage aeration process. We installed an Ultraviolet treatment system to remove up too 99.9% of bacteria from water.
In addition, we installed a sediment filter, water heater and well pump control box. Well pump control boxes provide consistent and controllable water pressure. The water treatment equipment was moved into a new room behind Leak detectors and water isolation barriers. Our very satisfied new customer now has clean and safe water for her entire family to enjoy!