National Water Service For Your Maryland  Water Treatment
National Water Service has been serving the DMV area for over 40 years. Our reputation and customer reliance is so high because we respond to emergency water situations with stress-free, timely solutions. No water? Low water pressure? We can handle it.
Part of our continued customer service is a commitment to our weekly Tuesday meetings. Every Tuesday morning, we host an educational meeting in-house that covers new products, advancements, well pump and water treatment technology, and we invite speakers.
Part of this meeting is reviewing our jobs from the previous week, the customer experience, and to brainstorm improvements to continue excelling. At the end, we conclude with our upcoming jobs, discuss what we need to be ready, and confirm everyone in the office is confident moving forward.
For the professionals at National Water Service, we're all about knowledge, continued education, customer service, and job preparedness. We're here to serve our clients, and we do so with joy and pride.
Check out just a few of our company highlights that keeps us highly rated as the go-to professional water company in Maryland.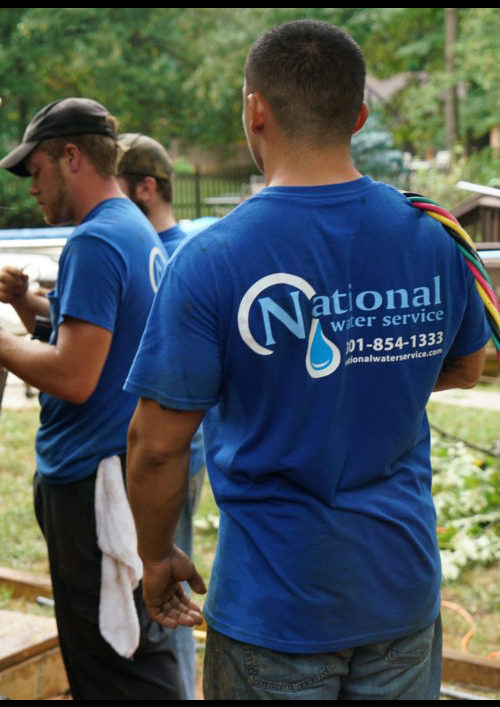 Our Professional Water Technicians Handle Emergency Situation with Ease
One of the most important jobs at National Water Service is emergency response. No water, low pressure, or any leak or flood can cause a stressful situation. Whether we're dealing with current customers, a new client, businesses, or home warranty companies, emergency service is always a top priority.
Part of our commitment is to make your emergency water situation as stress-free as possible. We know that leaks, no water, and low water pressure can be anxiety-inducing, especially in the middle of the night or on weekends. This is why we provide a professional water crew who responds seven days a week, 365 days a year. Whether at home or at your business, we are here for you. Here are just a few examples of our emergency crew at work on recent jobs!
How Our Professional Water Crew Handles No Water and Broken Well Pumps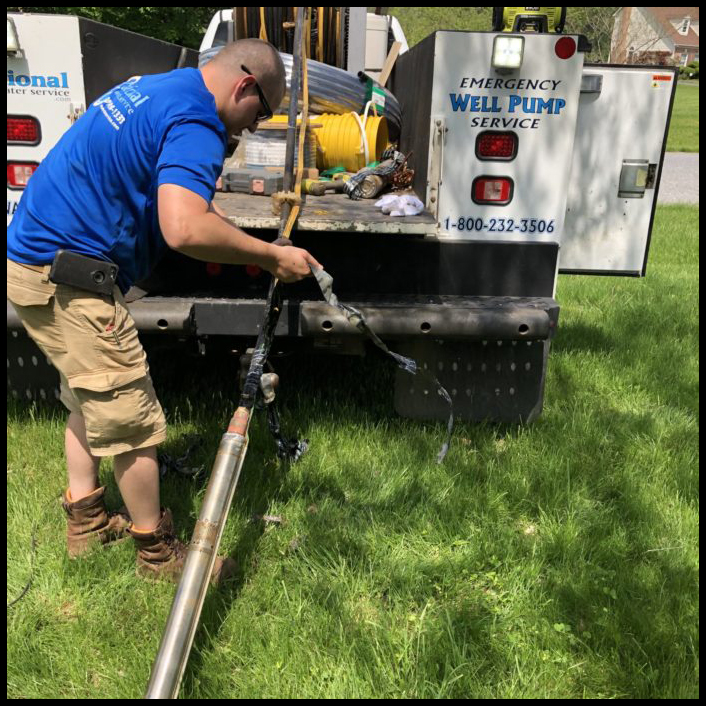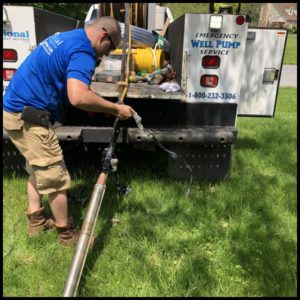 For over 40 years, our no-water division has been installing and maintaining well water pumps in Maryland and Virginia. We use only top quality and non-proprietary well pumps, conduits, casing, and wire, as well as pressure tanks and more. We think it is our responsibility to provide reliable, trusted equipment that families can put their faith behind.
Each and every week, our emergency well water response team replaces old or broken well pumps throughout the DMV area. In addition, we repair or replace waterlogged water pressure tank, broken control boxes for constant pressure systems, and thousands of feet of broken, old, or corroded well pipe and wire.
Fixing or replacing a well water pump usually involves our pump truck or an "upsy-daisy" to pull out the pump and locate the problem. This can be done with minimal equipment and a small crew. However, sometimes, fixing or replacing a well water pump involves a lot of parts and tools and climbing into a small pit to address the issue.
We've been complimented by our customers on-site before, for always bringing the proper equipment in case of emergency situations. For our crew, we always prepare for the unexpected, so your emergency situation never gets any worse.
Job Highlight of an Emergency Low Water Pressure Situation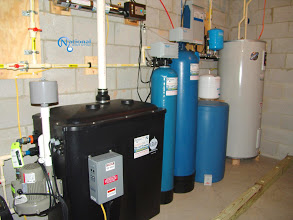 A new customer called complaining about their very low water pressure, and we immediately dispatched our emergency response team to evaluate the situation. On-site, we noted that the customer had an existing water softener, acid neutralizer, and reverse osmosis system as part of their water treatment equipment.
The existing equipment had not been serviced in years and as a result, additional testing was required before we conclude the safety of the water. We tested the water, as we do for every home, for contaminants such as radon, bacteria, lead, pH, and more; the client's water tests failed for radon and e-coli, and as a result, new equipment was proposed and installed.
The existing softener and neutralizer were dumped and re-packed with new resin and calcite; the reverse osmosis filters and membrane were changed; and the faucet and housings were cleaned. Situations such as these is why annual service is always recommended for all water treatment systems, because without proper care, even the best water treatment systems can result in a failure and contaminated water.
In order to remove the radon from water, a spruce AiRaider was installed, which removes up to 99% of radon from water through a multi-stage aeration process. We also installed an ultraviolet treatment system to remove up to 99.9% of bacteria from water, to take care of the e-coli results.
To end the job, we installed a sediment filter, water heater, and a well pump control box. The well pump control box provides consistent and controllable water pressure, so the owner would not need to worry about low water pressure again.
The water treatment equipment was moved into a new room behind leak detectors and water isolation barriers, to help with maintenance in the future. Our very satisfied new customer now has clean and safe water for her entire family to enjoy!
Winter Water Emergencies Solved with a Timely Response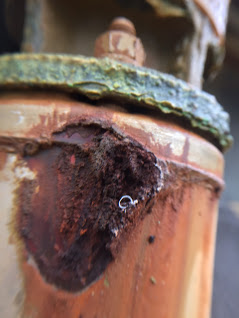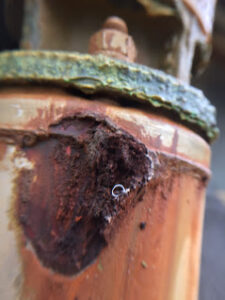 As winter approaches, it is always important to ensure your well pump and water treatment systems are working properly to sustain you and your home through the dropping, freezing temperatures.
On an emergency job in the past, we assisted a new customer with a replacement of their old well pump for a new Grundfos well pump in Gaithersburg, Maryland.
The homeowner awoke to no water in her home, and our emergency well pump division crew arrived at her home as the sun was rising to diagnose the issue. Once we pulled the pump out of the well, the problem became apparent: a broken wire and a rusted out hole in the pump. A new pump and wire were installed, water was restored to her home, and she was ready for winter!
It's never a bad idea to schedule maintenance in the fall, heading into the colder seasons, to ensure you don't find yourself without water one winter morning. Let your local professional water company assess your equipment before the ground freezes over so you are well prepared!
The Top Reasons to Work with National Water Service for Your Maryland Water Treatment
In addition to our emergency response, weekly education meetings, and commitment to customer satisfaction, our local company also boasts a whirlwind of other highlights and features that our customers have appreciated for decades. Here are just a few of our favorites reasons why we'd like to work with you on your next water treatment system!
A Free Consultation & Water Test
Before we install any water treatment system in your home or business, a water test is needed. This is to ensure we install the correct equipment, without skipping any corners or installing systems that won't help your water.
One of our experienced technicians will come to your home or office for a free consultation. After the water is tested, we discuss our findings and what you like and don't like about your water.
Most importantly, we determine what you are looking for in a water treatment system and what options will provide the safest drinking water. Only after the consultation is complete will we make recommendations as to what water treatment system best suits your wants and needs and create an installation plan.
Safer and Cleaner Water from the Tap
Undoubtedly, the top benefit of installing a water treatment system with National Water Service is that you will have safer, cleaner water directly from the tap. Clean water will benefit the health of you and your family members, as well maintain the intrgietity of your appliances and pipes.
All water treatment systems we install are customized to each individual customer's wants and needs, from well pump safety to adding sparkling water on tap. We will discuss water purification systems, which can remove impurities such as sediment, chlorine, radon, bacteria, and other containments from your water.
In addition to being cleaner and safer, your water will also smell and taste better, so you can stop spending money on plastic water bottles for your home drinking water.
We'll Eliminate Your Water Issues
The primary reason to install a water treatment system is to remove dirt, sediment, radon, bacteria, and any of the other 18 million contaminants that can be in your water. At National Water Service, we don't just address the contaminants in your water, but any other issues you may be having with your water, such as pH and hardness.
Addressing the issue of hard or soft water, or low or high pH, with a water treatment system will prevent corrosion in your pipes as well as spotting on your dishes and staining on your appliances.
In addition, we offer flood prevention, storage tanks for low yielding wells, constant pressure systems, and much more to allow you to be in complete control of your water. It's not just about your drinking water, but how your water interacts with the appliances in your home.
Water Treatment Systems with Low Maintenance & Annual Service
A quality water treatment system can last decades and should require little to no maintenance to the homeowner. We do, however, recommend annual service to help prolong the life and quality of your equipment.
A quick, annual maintenance from your local professional water company can ensure your water is safe and your equipment holding strong. Don't leave it up to chance when your water is on on the line.
Our Local Water Company is Here for All of Your Needs
National Water Service offers a range of water purifying, filtration, and treatment systems that will address your specific water wants, needs, and issues. If you're experiencing low water pressure, are constantly running out of water, or have no water now, give us a call!
Our professional water technicians will discuss constant well water pumps, control box pressure systems, and more to help you stay in control. With a new Grundfos Constant Pressure System, you control the pressure with just the touch of a button!
Constant Pressure systems can provide water that has more pressure potential than city water!