20 Dec

Treating Groundwater Contaminated by Salt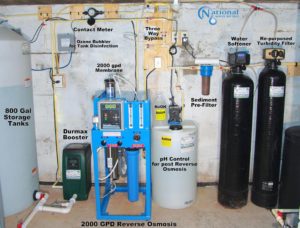 Groundwater or well water is water that can be found under the earth's surface, stored in the cracks and spaces between particles of soil, sand and rock. Well water may naturally contain many different impurities including, but not limited to, bacteria, sediment, radon, coliform, e-coli and more.
Well water can also become contaminated when pollutants on land seep into underground aquifers. Our customers well is located next to a city street in Randallstown, MD and became contaminated with sodium chloride (salt) from trucks pre-treating roads before snow storms.
To remove the salt from his now brackish well water we installed a 2000 gallon per day whole house commercial grade Reverse Osmosis (RO) water treatment system. The RO forces the brackish water through the filters and membrane, capturing & removing 99.99% of all contaminants, including the salt.
In addition to the RO, we installed a water softener, turbidity filter, sediment filter and an 800 gallon storage tank to hold the now clean water. We installed an Ozone Bubbler for tank disinfection, a Chemical Feeder to control the pH of the RO water and booster pump to increase the water pressure for the entire house.
No matter if your well water is contaminated by natural or human causes, a professional water technician will be able test your water and install the proper remediation. Water Treatment is for everyone!