15 Feb

Prepare For The Winter or Risk An Emergency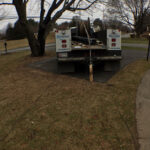 As winter roars its ugly head, it is important to ensure your well pump and water treatment systems are working properly to get you through the freeze!
Today, we replaced a very old well pump with a new Grundfos well pump for a very happy new customer in Gaithersburg, Maryland.
She awoke this morning to No Water in her home. Our Emergency Well Pump Division was at her home as the sun was rising to diagnose the issue. Once we pulled the pump out of the well, the problem became apparent, a broken wire and a rusted out hole in the pump. A new pump and wire were installed, water has been restored to her home and this Gaithersburg, MD resident is ready for winter!