21 Feb

Radon Awareness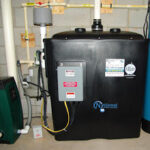 Over the last 12-18 months we have seen a huge increase in the number of people asking us to test for Radon in their well or ground water and the number of remediation systems we have installed.
Most of central Maryland, per the US Geological Survey, has some of the highest levels of Radon in groundwater in the country. Radon is found in both air and water and is the #1 natural cause of lung cancer and the #6 cause of cancer overall in the US accounting for over 21,000 preventable deaths per year according to the CDC and American Lung Association.
If you home is on well water, have your water tested, it could save a life.