Questions and Answers About Radon
Last updated Feb 19, 2019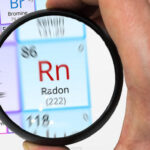 Radon is the leading natural cause of lung cancer in the United States and the sixth leading cause of all cancers. Radon is found in both air and water, however, unlike in air, water testing is not required. In the Mid-Atlantic region, radon levels can be dangerously high, over 100,000 pCi/L.
Central Maryland and Virginia have some of the highest concentrations of Radon in water in the country. Homes in central Montgomery, western Howard, eastern Frederick and central Carroll Counties in Maryland are most at risk. These include houses built on the Piedmont Province, particularly those built on the zone of phyllites.
The only way to know whether your home has elevated radon levels is to test your home. Despite radon's effect on the body, most locations don't require a water test. The EPA and most States only require Radon to be tested in your air, potentially putting peoples health at risk. Have your homes water tested for radon, it could save a life!
For more information check out this link: https://www.nbcwashington.com/news/health/Questions-and-Answers-About-Radon-and-Schools-360831931.html