13 Dec

A Water Treatment Success Story!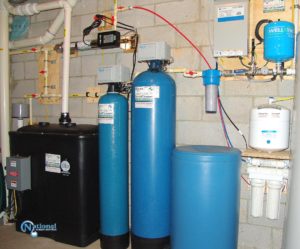 At National Water our technicians must be prepared for any situation, including turning a service visit into a sales appointment. Every Tuesday morning we hold continuing education meetings so that our techs are up to date on the latest water treatment/filtration/purification and well pumps in the industry.
We were called by a new customer in Woodbine, MD who had very low water pressure as well as a water softener, acid neutralizer and a Reverse Osmosis System that had not been serviced in years. The customer also asked that we have the well tested for Radon, bacteria and other contaminants in her water. The tests came back positive for e-coli, other bacteria as well as very high levels of radon in the water.
We installed a Spruce Airaider for remediation of radon in water with a booster pump. We dumped and re-packed the water softener and acid neutralizer with appropriate resin and calcite, installed an ultra-violet remediation system that removes 99.9% of bacteria from water and changed the filters and membrane in the Reverse Osmosis. In addition, we installed a new whole house sediment filter and a well pump control box with pressure tank that converts a standard well pump into one with constant pressure. Finally, we installed a new Hot Water Heater. We re-plumbed the entire water treatment system and installed leak detectors and isolation barriers to prevent any damage should a leak occur.
Our very satisfied new customer now has safe, clean, radon and bacteria free water for her and her entire family to use without worry!